Superior Soffit & Fascia Replacement Services
Homeowners tend to overlook the importance of soffit and fascia, but these two elements work together to provide vital protection to the home's interior and roofing system. They also complete a home's look. When a home's soffit, fascia and gutter system are properly coordinated, this creates a harmonious and eye-catching style that greatly improves its aesthetic value.
If you're interested in improving your home's curb appeal and functionality, reach out to AQ Roofing LLC. We offer quality replacement, repair and installation options to help homeowners find the right solutions to their soffit and fascia needs.
Do Your Soffit & Fascia Need Replacing?
A home's soffit and fascia are vulnerable to water damage and rot, and malfunctioning gutters or improper installation can lead to costly damage that eventually requires replacement. If you are experiencing the following issues, it may be time for soffit and fascia replacement services:
Leaking gutters
Insect & animal infestation
Signs of water damage on interior walls
Frost in the attic
If you're experiencing any telltale symptoms of soffit and fascia damage, AQ Roofing LLC technicians can evaluate the problem and help you find a solution that meets your needs and budget.
Soffits
Soffit bridges the gap between a home's exterior wall and the roof eave. The purpose of the soffit is to protect the roof rafters and allow proper ventilation in the home's attic, but because of its location, soffit is often vulnerable to weather and water damage.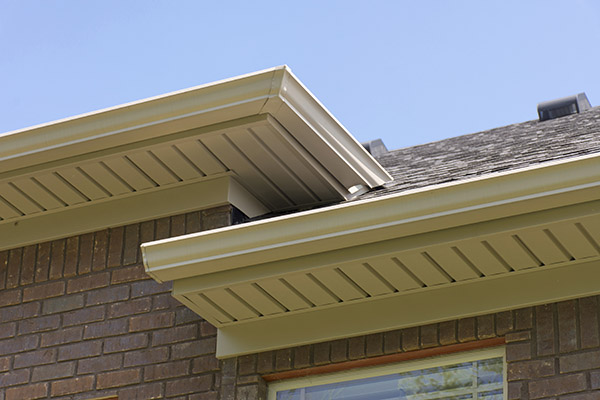 If your home's gutter system fails to function properly, soffits may begin rotting from water exposure. In addition, animals can cause damage by creating nests. AQ Roofing LLC doesn't want any of this to happen to your home. Our knowledgeable team can install new soffits to complete the look of your home and prevent future damage. With a wide range of styles and materials to choose from, our expert team of contractors can help you find the perfect soffits.
Fascia
Located along the ends of the roof rafters, the fascia board serves as the support for your home's gutter system. Not only does it improve the appearance of your home's exterior, it also protects the interior and the roof from the elements. Fascia is vulnerable to rotting and weather damage because of its location, but AQ Roofing LLC can help you determine whether repairs can be made or whether a fascia replacement is necessary.
We can also help you find the right fascia material for your home. While most homeowners choose wood fascia, AQ Roofing LLC also offers fascia constructed from metal, aluminum and vinyl. The material you select will depend on your style preference and budget, and we'll work with both to get you the fascia that works best for your situation.
Request a Quote Today
To learn more about AQ Roofing LLC and our soffit and fascia replacement and repair services, please call 501-951-2117 or contact us online. We want to protect your home, so reach out and let us bring quality results to your project!